Gentleman's Peach-coloured Steampunk Shirt
This is definitely the shirt for the intrepid dandy, long since down on his luck and forced to survive using his skill at the gaming tables! Upcycled cotton men's shirt, size small, with cotton tape and polyester lace as well as poly-cotton appliques on the shirt back. The polyester lace is deliberately distressed. Original tag reads "small 37/38." Shoulder yoke is 44 cm across.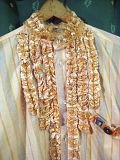 Close-up of shirt front with ruffles.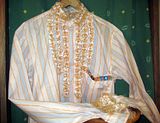 Shirt front.
Cuffs have ruffles and lace.
$50 USD plus $20 USD shipping charge